Responsiveness. Relationships. Results.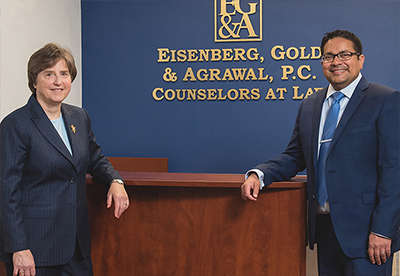 For more than 30 years, EG&A has represented regional banks, investors, lenders, corporate, and real estate clients in the areas of creditor's rights, bankruptcy, commercial law, and real estate law. Our attentiveness to our clients is a hallmark of our firm.
Our offices in Cherry Hill, New Jersey and in Jenkintown, Pennsylvania are staffed by experienced counsel and skilled paraprofessionals who have earned our clients' trust. We've built long-term relationships through strong communication, respect, and a sincere commitment to solving
legal matters efficiently and in our clients' best interests, not our own.
We work closely with our clients to understand their needs and develop solutions to obtain optimal results, affordably and expeditiously. To ensure strict adherence to CFPB regulations on behalf of our clients, we adhere to the highest level of information security including encrypted email, secure network and software design, and secure data and information processing, storage, transmission, and disposal.
We believe our responsive approach to client service, our dedication to client satisfaction, and our ability to cost-effectively meet client objectives are key advantages that set us apart from larger firms.
To speak personally with one of our partners, please call 856-330-6200.
In Memoriam 
William Eisenberg, Esquire
Founding partner Bill Eisenberg built an outstanding reputation throughout Camden County as a dedicated attorney and community leader during a distinguished legal career which spanned more than 45 years. In 1985 Mr. Eisenberg partnered with Ms. Janet Gold to form Eisenberg & Gold in Haddonfield, and the firm grew from a general practice into a specialized creditor's rights, foreclosure, and real estate law firm. Mr. Eisenberg retired in 2007 and became volunteer counsel for the Camden County Center for Law and Social Justice, and the Camden County Bar Association Domestic Violence Pro Bono Program at Rutgers University School of Law.
Bill had a warm personality, a fierce work ethic, and an unparalleled dedication to his clients, his friends, and his family. He leaves us with many fond memories and a legacy of making a difference for both his clients and his community.